Dettagli

Visite: 1410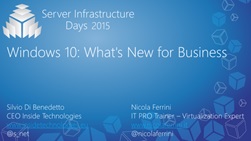 Quanti di voi hanno perso l'appuntamento dei SERVER INFRASTRUCTURE DAYS 2015 che si sono tenuti presso il Microsoft Innovation Campus il 17 e 18 Giugno 2015 possono recuperare :-) dando un'occhiata alle registrazioni che sono state rese disponibili su Channel 9.
I Server Infrastructure Days sono organizzati dalla community WindowServer.it in collaborazione con Microsoft Italia e sono dedicati alle tecnologie server in ambito IT Pro Business. Il mondo dell'Information Technology si evolve rapidamente ogni giorno e per affrontare le nuove sfide è necessario utilizzare gli strumenti giusti che aiutino ad ottimizzare tempi e risorse. L'edizione 2015 ha avuto come temi principali Cloud Infrastructure and Management, Productivity, Big Data, Unified Communications, Mobility e molto altro!
Al link https://channel9.msdn.com/Events/Server-Infrastructure-Days/Server-Infrastructure-Days-2015 vi ripropongo tutte le sessioni che sono state registrate.
Le mie sessioni sono:
Buona visione!
Nic
P.S.: Se voltete vedere tutti i miei video cliccate qui https://channel9.msdn.com/Events/Speakers/nicola-ferrini
Dettagli

Visite: 1236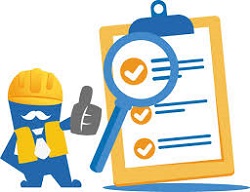 Oggi vi voglio segnalare un articolo di Paul Westervelt, Support Escalation Engineer della Microsoft GBS Management and Security Division, apparso sul blog ufficiale di App-V.
Paul ci spiega come sia possibile semplificare il processo di aggiornamento del Management Server di App-V 5.1 e ci guida step-by-step attraverso l'intero processo, mettendo in evidenza le potenziali aree problematiche e raccomandando le azioni correttive da dover eventualmente intraprendere.
Al link http://blogs.technet.com/b/appv/archive/2015/09/23/a-simplified-microsoft-app-v-5-1-management-server-upgrade-procedure.aspx trovate l'intero articolo.
Buona lettura
Nic
Dettagli

Visite: 1330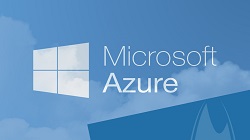 Come molti di voi già sanno, da diverso tempo collaboro con la community italiana di Microsoft Azure http://www.azurecommunity.it
Per chi volesse cominciare a interagire con le sempre più crescenti funzionalità di Microsoft Azure può, oltre a seguire il sito della nostra community, dare un'occhiata al nuovo sito Microsoft Azure Boxes https://www.microsoft.com/italy/azureboxes . All'interno del sito troverete una ricca serie di video che vi permetteranno in pochi minuti di capire scenari e potenzialità del Microsoft Cloud e successivamente di implementarli. Molti di questi video sono stati realizzati dai membri della nostra community e trattano argomenti utili sia per gli ITPro che per i Dev.
Attualmente sono disponibili (in maniera gratuita) i seguenti video:
Vuoi iniziare ad usare il Cloud pubblico di Microsoft ma non sai come fare? Questo potrebbe essere un buon inizio!
Nic