E' disponibile da oggi sulla Microsoft Virtual Academy (MVA) un nuovo corso GRATUITO che si chiama MDOP Application Virtualization Deep Dive!
Il corso (in inglese) è fruibile all'indirizzo http://www.microsoftvirtualacademy.com/training-courses/mdop-application-virtualization-deep-dive.
Per coloro che vogliono capire come funziona App-V questo corso rappresenta un ottimo approfondimento su tutto il sistema di gestione e pubblicazione delle applicazioni virtualizzate.
Il corso si divide in 4 moduli:
Server Feaures and Roles Part 1
Introduction
Server Features and Roles
Preperation
Walk Through - Preparing Accounts and Content
Database Configuration
Walk Through - The App-V Data Store
Server Features and Roles Part 2
Management Service
Walk Through - Setup and Operation of Management Server
Publishing Service
Walk Through - Setup and Operation of Publishing Service
Reporting Service
Walk Through - Setup and Operations of Reporting Service
Content Servers
Walk Through - Content Servers
Client Management
Client Management
Walk Through - PowerShell and Policies
Package and Connection Group Management
Package Management
Walk Through - Package Management
Resources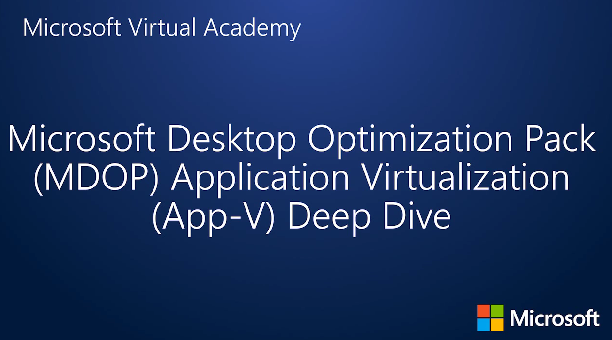 Buona visione!
Nic